This year, as part of the Albion Faeries summer solstice celebrations, a circle of courageous faeries came together to share our experiences of embodiment: to talk about how our body issues; anxieties, fears, comparisons, resentments and projections shape our experience of the world, our intimacies and relationships.
Our circle was well attended by a diversity of bodies vis a vis size, shape and age: slim and skinny, big and wholesome, young and old. Our collective was mostly white, mostly male and cisgender – but also genderqueer.
We recognised the lack of representation by our female, trans, black and brown brothers and sisters and honoured their unique experiences. We hope our thoughts and process help initiate further circles where all bodies; their histories, narratives and futures can be held and welcomed, seen and heard, loved and supported.
We set out our space with love and intention and our facilitator encouraged discussion around a number of talking points. As an introduction, participants were invited to reflect on why they had come to the workshop:
Why are we here? What moved you individually about the workshop title? What particular feelings and / or grievances do you have about you body that you want to share and / or understand?
Each individual was given space for five minutes to talk around this opening point. A variety of experiences / trauma / conflicts and reflections were offered. Some of us had experienced serious accidents and had been left with the pain and insecurities of scars and surgeries. Some of us, perceived as 'not having body issues', felt silenced, unheard and isolated in our pain; not 'taken seriously' by others about our anxieties and fears. Some of us were confused by our bodies and by others bodies too – feeling like the body and the symbolism around the 'preferred' and 'body beautiful' were barriers to finding connection and relationships. Most of us felt dismayed at the pervasiveness of such notions, feeling that even 'spiritual' and 'queer' communities were just as afflicted and affected by such exclusion and reductivism.
Some of us disliked particular areas of our bodies: our bellies, our faces, our stretch marks, acne, teeth, gums, varicose veins, grey hair and general appearance. Some of us felt a little resentful that just as we were embarking on newly discovered queer-trajectories and callings, our bodies betrayed us by ageing and becoming less appealing to those seeking out the youthful body, the adonis or its non-binary equivalent.
How does it feel to inhabit a body that doesn't conform to mainstream prescriptions of beauty and allure? How does it feel to be disenchanted / depressed or resentful of your own body when it or parts of it feel 'ugly' or are sick and weak? How does this affect our lives and relationships?
This section was timed at around 10-15mins and was an open session with people volunteering reflections and insights. Here we uncovered a great sense of awareness and mourning around the painful experience of being in the world with a body that doesn't 'match up' or that 'plays up'. Some of us spoke of entertaining a love / hate duality with our bodies; recognising and appreciating its potency, capability and inherent beauty but feeling resentful of its 'shortfalls' and 'weaknesses'. Some of us described the act of recoiling from others touch or interest – literally flinching at the approach of another body or intimate encounter. And also of second guessing and being suspicious of the others intentions: the internal narrative of 'they're not really interested', or 'I'm not enough'.
The common experience here was on of inadequacy, which was referenced continuously. Some of us spoke of an energetic experience of 'closing inwards' or 'closing down', a 'shrinking feeling' and a 'peeling back' from the world; a clammy fear of being seen and avoiding the gaze of others.
In times of complete disillusionment with our bodies, some of us spoke of adopting an asexual energy and position as a defensive strategy: 'no one wants it anyway honey, so put it away'. Our natural impulses toward sexuality and intimacy were denied through fear of rejection or having to expose a body that we felt interminably shameful about. Some of us spoke about wanting to just disappear, to be invisible – in humour (but also, in deadly seriousness), some of us spoke of the magic trick of invisibility accompanying a visit to a gay bar, when the affected gaze of the audience to only detect certain bodies, denied the existence of our own.
We all blamed our bodies at some point for all kinds of events and misfortunes: 'if only my body would do or be such and such, then such and such would be easier'. As a result, at times when our bodies needed the most compassion, in times of ill health or disease, we confessed to subjecting them to all manner of insults and scolding for their 'lack of perfection'.
Ultimately, all of these experiences converged to instil in us an unbearable low self-esteem. Some of us were so distraught by our embodiment, that we actively retreated into disembodiment, or of taking notions of the energetic body to extremes by inhabiting them as a defensive alternative to being our bodies as material.
Some of us reflected on how all kinds of sexual practices and fetishes were explored as a way of coping with having a different body: how swim wear, leather and sports gear (not exhaustive) allow us to engage sexually and provocatively but to also hide our skins (well, at least partially). The significance of the dark-room in gay sex spaces was not lost on us.
Finally, we closed our section in realising how, whilst being so neurotic in our fear of rejection from others, we spend most of our waking day rejecting our embodied selves.
Where do our body anxieties stem from? Whose idealistic and normative prescriptions of the body are we trying to live up to? And where do they come from?
This section ran for another 10-15mins and was another open session. The intention here was to grasp some of the social factors that inform and influence the context for our bodies and our experience of them.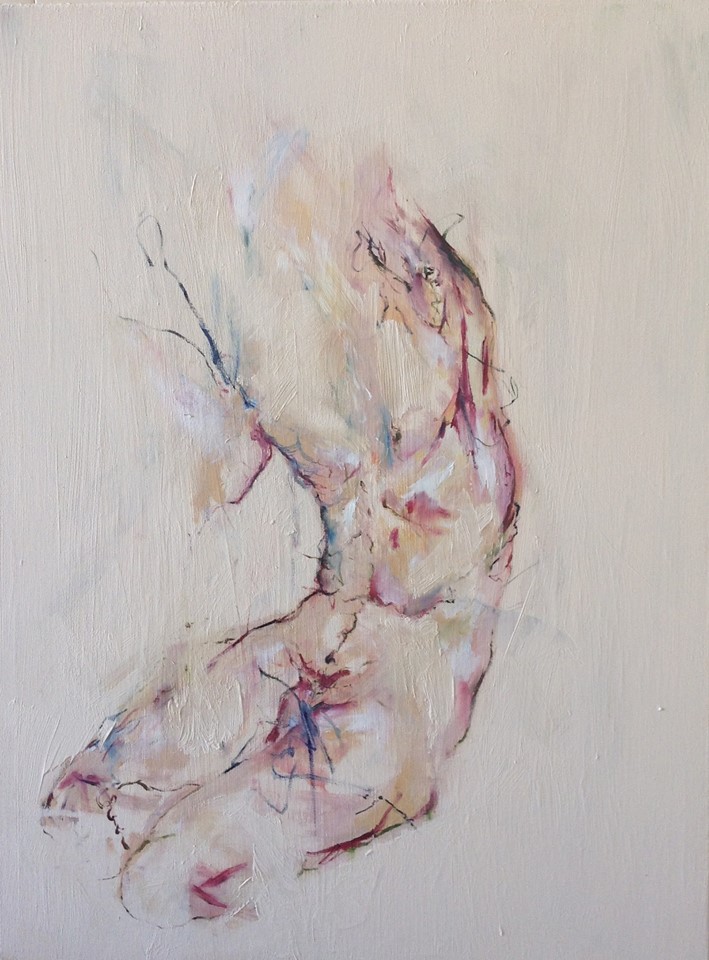 An interesting insight was into our similar experience as queers as growing up in a straight (white) man's world: and how, our bodies would 'betray' us from an early age, appearing too effeminate or not masculine enough. This would provide the early context for a deep distrust of our bodies and sow the seeds for our delight or retreat into disembodiment. Or perhaps our love of costume and drag – to hide our skins of shame. Our 'bodies as betrayal' extends to the bodies expression of natural sexual interest and expression too – how we psychically punish our bodies as youngsters for exhibiting arousal for our same-sex attractors. Shame was recognised as a common emotion and experience for us all and a primary factor in distorting our own body-image.
Some of us commented on the unrealistic portrayals of the body in the media and in fashion especially. Some of us had worked specifically in this industry and reassured everyone of how much of a hot mess models look before being pampered, preened and photoshopped. All of us recognised the damaging effects of this propaganda. All of us felt beleaguered by the trend of a new style for assessing the validity and worth of bodies on 'the scene' by 'rating them'. How our magnificence and complexity had now been reduced to two, three or four stars if-you-should-be-so-lucky.
Many of us felt this phenomena to be fascinating and relevant in the context of our capitalist and consumer culture: how our bodies have been reduced to commodities and forced to operate by the instrumental and transactional logic of capitalism. Dating apps like Grindr have only confounded this problem: we now 'shop for cock' and scroll menus of flesh completely disembodied from their human and spiritual realities. Grindr is commodity-fetishism at its zenith.
Further, categorisations and labeling of our bodies (most predominately on that gay scene) excluded those that aren't deemed to fit and further inflamed the commodification frenzy of them. Not to mention, the fact that the idea of the solid, smooth, athletic body of prowess that is the now everywhere standard, especially within our LGBTQI communities, leaves no room for the visibility and compassion for bodies affected and depleted by a whole spectrum of social issues that affect us disproportionately (chronic and mental health conditions, drug abuse, domestic violence, homelessness and poverty etc).
Some of us commented on how the lack of representation of bodies that are different from the mainstream accepted and celebrated types only bolsters our collective desensitization to bodies deemed 'other' or 'out of control'. In particular, categorisations and labeling of our bodies (most predominately on the gay scene) excluded those that aren't deemed fit and / or desirable and further inflame the commodification frenzy of them.
It was agreed that the situation has reached fever pitch: an ever narrowing self-perpetuating cycle of exclusion and shame accompanies the media-orgy and fetishisation of the body beautiful. We all acknowledged that non of us belonged to any such 'boys club' – and yet recognized that whilst those bodies weren't represented amongst us, how their particular body issues were unique, significant and valid in their own right.
Yet, even in a state of some prescribed 'non-perfection', sickness or ill-health – what do our bodies allow? What are our bodies really, beyond biased and corrupt notions of beauty, capability and worth?
Another ten minute open session. Here we discussed ideas of what the body signified or represented 'authentically' (to us as disruptive, open-minded and spiritual queers). Here we enjoyed the notion that our bodies were vessels / vehicles / platforms from which to enjoy and celebrate the world and each other. Beyond the above reductivism, we smiled at our bodies as conferring gifts and abilities, such as our innate drive for creativity: our small circle for example, boasted dancers, gardeners, writers, artists, healers, actors, singers and songwriters, musicians and poets.
We agreed that our bodies, ultimately, are vehicles for connection, for love and intimacy and for building community – the notion that disability, disease or a failure to achieve or possess a certain body type should disqualify us from such bounty, are abstract and destructive concepts born of an abstract and destructive culture.
Some of us enjoyed the idea, inspired by our own journeying with medicine plants and otherwise, that our bodies are but magnificent containers for our consciousness. That what we perceive as individuality is a confusion and a distraction – that this is a momentary, transient and permeable experience: consciousness is eternal and our embodied lives are an experience. We rested together in the miracle and awesomeness of our bodies, the mystery and mystical nature of them. We found solace in reconnecting with their fundamental interdependence with and interconnection with the world around us – how our lives are a perfect symbiosis from the microbial and beyond.
We encouraged together a sense of gratefulness for this realisation and reflected at how easily these understandings were forgotten in the nexus of bodily-symbolic violence and commodification. We connected with the promise of our bodies for our personal development – our facing of fears, our learning and our embracing of the strange, unknown and of each other. We took refuge in the ability of our bodies to transform and for us to act upon our bodies in the pursuit of our personal transformations. A touching story came to the circle, when in her parting moments, one of our Mother's declared: 'I am not my body'. Closing, we all nodded in recognition of this familiar experience and knowledge of similar realisations.
Moving forward, what are our strategies for resisting commodification of our bodies? For celebrating the glory of our bodies and resisting mainstream prescriptions for allure and beauty?
A twenty minute session by accident. We first dealt with some conflict around what these strategies were and should be. We agreed that what they are not is yet more prescriptions for 'what we should do' to our bodies, or how we should be in them. We agreed that the cycle of violence must stop by learning to accept and love our bodies how they are in the moment, without change or regime on the route to some notion of perfection.
All of us pledged to investing in future co-created space where we could safely enjoy our bodies as they are, to be heard and seen in our vulnerability and to see and touch other bodies free from constraining bodily-ideals. We agreed to work to create spaces where we can progress in grappling with and ultimately transcending limiting and damaging ideas of what constitutes an acceptable and/or desirable body: to 'fuck gender' and do it anyway. Integral to this is to compliment the intellectual with 'heart space' – to bring love into our relationship with our own bodies and to approach other bodies with love too. To 'be the change' and to impact on culture by limiting our personal indulgence in reductive and exclusive desires.
We suggested that restricting our exposure to portrayals of the body beautiful via mainstream media would be nourishing for us: the TV must be sacrificed for our freedom. At the same time to 'treat our bodies well' by doing whatever it is to them that brings us nourishment, happiness, contentment or support: to indulge frequently in self-care and to reward ourselves continuously for the courageousness of just 'being in the body' and living out our embodied lives.
We promised to smile more, at our bodies and at others too – as a way of signalling our respect, adoration and acceptance of them. But we also recognised the importance of 'being okay with not being okay', to give space for sorrow when our bodies are not performing as we would have them, or when looking a certain way – whilst importantly, remembering our discussions and lessons here to guide us again to a place of ease and contentment.
Finally and in recognition that our time together put a limit on the diversity and infinite number of ways we can celebrate our bodies consistently as a way of being, we also set out to challenge ourselves. To step into vulnerability, safely – to celebrate our bodies from within, to allow them to be seen and celebrated more by others.
This process was undertaken on the day of the solstice and I can say that I saw some courageous celebrations of our bodies that evening – and it was beautiful. We were beautiful x
To: Faunalicious, Queever, Big Sister, Brunelle, Brother Sun, Marlena, Stan, Pink Dalek, Hagbard, Badger, Cunty and Swallow.
From my body to yours, Octopus x
Other stuff by Octopus:
Breakups | A Call to Sisterhood.