by Fire Jaguar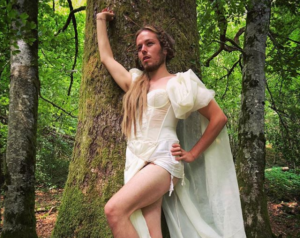 I came to Folleterre Radical Faerie Sanctuary for the Solstice
the year before I was intensive care
watching the suns rays creep across the floor to the bed I couldn't leave
hooked up to a tube helping me breathe
for 24 hours
In folleterre I was welcomed home, home to the earth, to nature
I marked the solstice by watching the sun rise
As the sun entered my sign of cancer
I sang songs I made a year before in the sandpit, with my crystals and cried
I had an epiphany
I could heal from everything that ever happened to me
.
I vowed to myself, faeries, the lake and Pan that I would return
for as long as I could
I bravely asked for help
negotiated for time
couldn't return for atleast 5 weeks
didn't even want to leave…
lost in limbo
but before I knew it, it was time to return
.
I missed my initial flight
I got 3 days in a much smaller and more familiar sanctuary
a half way house
I arrived 3 days late
and immediately sang at a spontaneous cabaret, about how lost I was, and how it feels so good
to have found my tribe
dressed as Jesus Spice
It was nerve wracking
but really helped me arrive
.
I had made a beloved friend a Wand from the Ancestors tree while I was away
he had stayed
I got to put the Wand back in the very spot we found it in, as fallen wood, 5 weeks before
I love the magic we all create
We are so lucky to have Sanctuary, Off grid, Safe, Faerie Space
.
At the First Gathering, there were about 80 more people than the Solstice
I knew this would be intense
But being out in nature together
was very different, to my experience of being in the many roomed, crucible like Featherstone Castle
Morning Circles were long, but the experience was much more cohesive
the number of people  made every task seem rather threatening…
My focus was on entertaining myself by getting dressed up, enjoying the attention, compliments
showing off the parts of my body I actually like
 and heart circling
.
Blonde Ambition Spice
 Sex Book Madonna
 Joan Collins Spice
 Kylie Minogue, singing whilst doing yoga
 BDSM Barbie
Shamanic Spice
 Princess Leia Brigitte Bardot Spice
 Cruella DeVil Spice
 Spiritiual Barbie Spice
 Mama and Baby Winehouse
Show Girl Spice
some of the looks and names I created… I know there were many more…
always a little bit self conscious
unsure of my motivations
I talked to myself in the mirror about it one day and cried
It's not easy being incarnate in a body sometimes
I don't have to be an attention seeker, it is safe to approach people
sometimes an outfit felt like armour, or at least it put a distance between myself and others
I think I may have simply been too much in my head
Most of the times it brought on pure joy
.
Its amazing even in a very safe space
How much fear I often still felt
I had this constant desire to be held
it happened twice in almost 4 weeks
I avoided many opportunities for intimacy through fear
intimacy to me being authentic, revealing your most private and true at this moment self – thoughts, feelings, bodily self..
And I actually also did this a lot..
But it requires trust
The Sanctuary was a very different place for me in the final week once long term friends I have built that with had left
.
I got sick twice
both times when I was getting close to people I really liked
what was that about?
I felt like a contagious leper…
avoiding people when I needed hugs more than ever
not completely, the first time I felt so much better when I realised it wasn't just me…
I heard afterwards,  50% of the gathering had it to!
The Shame I felt was totally disproportionate to the present situation
But I read in a book while I was there, and it was true for me, and these things take work to clear..
My first sexual encounters were totally entrenched in shame and fear
.
I was able to focus and feel grateful for what actually happened, instead of what I felt like I missed out on…
Lovely cuddles, kisses, wonderful hugs and beautiful conversations… people being there just at the right moment
Helping me be shoeless shamanic spice, when I was freaking out about performing without heels, so genuinely, lovingly supportive, and grateful for things I had done too…
I was able to share my shame at being so lazy, and why, and gently encouraged to do more…
I definitely felt better once I finally did some washing up!
I started cooking more too
.
 I thought about how we are Radical, its Radically different for me anyway to be in such a space, from 17-21 I only knew websites as the way to secretly connect with other queers
I was in an abusive relationship after that for five years where I didn't connect in that way or any other
I spent one year of my life out and single, but my priority was healing, in a rather heteronormative spiritual community,
then I found the faeries, and a new lover, two years, feeling I was sortof  part of this tribe
Ended that relationship in January, and 8 months on there are people who feel like my chosen family
Allowed to "just be"
I love myself more, I love them, and I know they love me…
Real affection outside of a "relationship" is almost a totally new thing
.
Being in Sanctuary did bring me more physical healing that I desired to, not in the way I expected
as lazy as I was at times, I was still up on my feet so much more, rarely ever inside
Just walking up hill to meditation rock was a workout
swimming was wonderful
I eventually got so fed up with feeling crap I started stretching in the morning
I feel so much better I'm maintaining more activity
before I would just sit around at home thinking I can't be bothered
Last night I had a totally enchanted experience, a regular occurence in Folleterre
Missing the lake, I walked to the nearby river, and swam down it, surrounded by tree's on each side
It gives me tingles just thinking about it
Remembering the Lake, I had a mystical experience there too, to the sound of a flute
I was missing some of my friends, but then in my heart and  my minds eye, they were all there, dancing in the lake, or on the bank with me too!
.
Once I left, I could really appreciate where I had been..
People who aren't faeries think I've just been on holiday… A holiday from the outside world I guess
Walking in the French town of Lure
I was checking out his muscled arm
I noticed his angry face…
I felt the fear, (so small, compared to the all consuming kind I've felt in the past)
I breathed through it (what an improvement)
But thought, shit, this isn't safe (so much more aware of what's happening)
I'm no longer in Faerie Space
.
Really i'm always in Faerie Space
I came back to london
I performed at a Queer Cabaret
I brought my ability to share deeply from the heart to the Glory's stage
about how much I've grown, probably demonstrated more than anything by my Angelic outfit
One that's been nurtured and appreciated even more in the last month, but finally recognised during the last 4 years
People were so grateful and touched
Take your broken Heart, and make it into Art, as Carrie Fisher once said
My hearts no longer broken though, just wide open