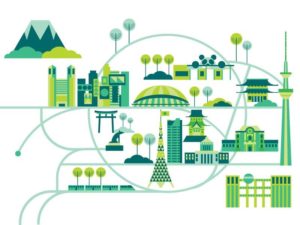 Faeries have been meeting on the last Thursday of each month to discuss creating a permanent place for the community in London. This project was started by Blue-Star who I interviewed to help put together this blog outlining the plan so far. One of the major problems in creating a faerie sanctuary in England is the strict regulations around purchasing and building on any non-urban piece of land. So Blue Star is looking at polluted brownfield sites in the London area which will either be free or very low rent. There are also loans and grants available to groups being ecologically innovative by turning such sites into living space.
The land would be capped to prevent pollution and the houses would be modular buildings (see http://bit.ly/emvtour) that don't require foundations. We would still be able to grow vegetables, herbs and other plants using raised beds possibly with assistance from similar gardening projects like the Nomadic community gardens in Shoreditch. Blue-Star is calling this prospective UK Faerie sanctuary "The Emerald Village". It will house 12 to 20 faeries around a community centre where there will be joint cooking and group events. One possible site for this is "Meridian Water" in Enfield which will be available from late 2019 and could be leased for up to ten years. The community will even be able to continue beyond the long term lease on the land as all the housing owned by the community will be transportable.
Funding for projects like this is available from a number of groups; "CAF Venturesome" a charity foundation that gives soft loans for pre-development i.e. planning, architecture, legal experts and surveyors. There's also the innovation fund from the Mayor of London for affordable rent projects in the city. The rent for the Emerald Village will be decided amongst the faeries living there and will be used for paying back loans and storing a cash reserve for projects like going off grid. There is also the Unity Trust Bank and the Ecological Building Society who fund off-grid projects like this.
To practice living as a community until the brownfield site is available the Emerald Village could have its first incarnation in an empty office block. There are possible buildings in Blackfriars and Oval. This would happen in collaboration with the National Lottery funded charity "Space Generators" set up by Blue Star and three other trustees. Space Generators would make other floors of the building available as workspaces, a community cafe and community meeting spaces, while the faeries would have a few floors to begin our first co-habitating Albion faerie community.
There are a few ways you can get involved in helping set up this Albion Faerie co-operative. There is an Emerald Village Facebook group for updates and discussion as well as information about monthly socials. There is also going to be a presentation about our prospective faerie co-op to a group called Radical Roots at their gathering in Oxford from the 9th to the 12th August 2018. Radical Roots are a support network for housing co-ops that provide training on running a co-op and a possible loan towards buying community assets like the modular houses that will make up the village.
Blog post by Astro and Blue Star
FIND THE EMERALD VILLAGE GROUP:
https://yellowbrickroad.org.uk/general-info/the-emerald-village/
on Facebook:  https://www.facebook.com/groups/2045744565713546
on Faenet:    https://faenet.org/community/pages/54-emeraldvillage
or write to iain@yellowbrickroad.org.uk